Profile
Results
We work with you on a personal level to determine the best solutions for your unique needs, then leverage our seasoned expertise to achieve the best possible results.
Relationships
We are your trusted partner in success. Our firm is large enough to offer a full range of professional services at a fair price, but small enough to give you the individual attention that you deserve.
Relief
Rest assured that when a need arises, our firm is ready and capable to handle everything for you so you can focus on what matters most to you.
Meet Our Team
Joyce Mohr, EA
is the owner of Taxes Plus, a tax preparation and consulting business in Rockport Maine. She is a graduate of Boston University. She began her career in tax by managing a retail tax office for a major US tax preparation company where she also taught continuing education classes to tax preparers in areas including: international, rental, depreciation, and Part II of the Special Enrolled Agent Test Preparation course through MaSEA. Joyce has been a seasonal software quality assurance analyst for a do-it-yourself tax preparation product. She has been an enrolled agent and a member of the MaSEA since 2007 and was president of MaSEA from 2013-2015. She is a member of, and served on the board nominating committee (2012 & 2013) and the Bylaws and Governance committee (2018-2021) of the National Association of Enrolled Agents. She has co-founded "Acacia in Kenya" an outreach project that partners with community leaders in Mumias, Western Kenya to empower communities, especially young women. https://acaciainkenya.org/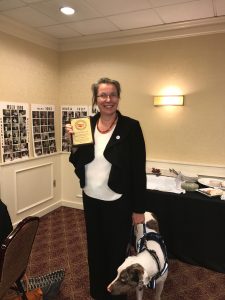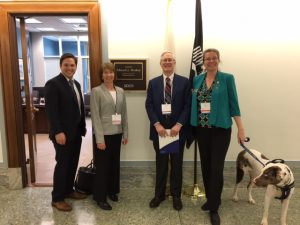 ---
Nancy Goggin, Office Manager
Nancy spent many years in the Northeast, both in Vermont and Connecticut and moved to Florida in 2004. She worked in the executive end of the insurance business as an Administrator, first at Travelers and then retiring from United Health Group in 2008. She began working remotely with Joyce in 2012, before moving permanently to Maine in June 2019.
---

Milo and Galaxy – Taxes Plus Mascots
Milo (black & white dog) was rescued from the Humane Society of Knox County in Thomaston, Maine in July 2012. He is a six-year-old mixed breed, very friendly and loves to greet clients, often with a gift for them. He was the first mascot at Taxes Plus.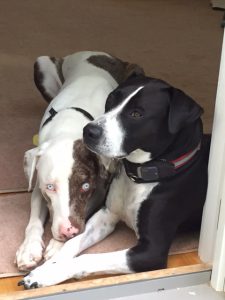 Galaxy – (white & brown dog) is a very sweet Catahoula and is totally deaf and blind. He was rescued (February 2014) from the Montgomery County Humane Society in Maryland. It would not have been possible without numerous rescue groups and shelters including the Louisiana SPCA in New Orleans, www.pawsadoption.org, Catahoula Rescue of New England and www.chesapeakesafeharbor.com
Since his rescue was during tax season, he spent time with a foster family in Western Massachusetts until Joyce, Bob, Nancy and Milo could pick him up on April 19, 2014 – we are forever grateful to Gibby, Roger and family for taking care of him.